Specific Workers at Risk for Carpel Tunnel Syndrome
Specific Workers at Risk for Carpel Tunnel Syndrome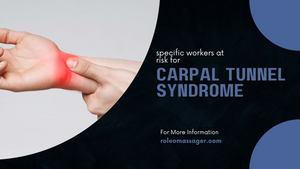 Workers who use their hands and wrists repetitively are at risk for CTS, particularly if they work in cold temperatures and have factors or medical conditions that make them susceptible to the condition.
Computer Users and Typists. Repetitive typing and key entry has traditionally been associated with missing work due to CTS. The risk for CTS in this group, however, is still much lower than it is in occupations involving heavy labor. Although more than 10% of computer users complain of CTS symptoms, the evidence implicating computer use as a major cause of CTS is weak.
Other Very High-Risk Workers. Workers in the meat and fish packing industries and those who assemble airplanes have the highest risk for CTS, according to one study. Meat packers complained of pain and loss of hand function as long ago as the 1860s. Even today, the incidence of carpal tunnel syndrome in the meat, poultry, and fish packing industries may be as high as 15%. CTS may also affect as many as 10% of automobile workers.
Musicians. Musicians are at very high risk for CTS and other problems related to the muscles and nerves in the hands, upper trunk, and neck. In one study, 20% of musicians reported CTS or other nerve disorders in the hands and wrists.
Highest to Lowest Numbers of CTS Events by Job. The following is a list of occupations published by the Bureau of Labor Statistics, which rates workers with the highest to lowest total numbers of CTS-related events:
Cooks, institution and cafeteria

Electrical power-line installers and repairers

Painters, construction and maintenance

Highway maintenance workers

Welders, cutters, solderers, and brazers

Bus and truck mechanics and diesel engine specialists

Construction laborers

Maids and housekeeping cleaners / Industrial machinery mechanics

Laborers and freight, stock, and material movers, hand

Automotive service technicians and mechanics

Bus drivers, transit and intercity

Maintenance and repair workers, general

Telecommunicationsequipment installers and repairers, except line installers

Janitors and cleaners, except maids and housekeeping cleaners / Foodpreparation workers

Truck drivers, heavy and tractor-trailer

Heating, air conditioning, and refrigeration mechanics and installers

Truck drivers, light or delivery services

Correctional officers and jailers

Driver/sales workers / Nursing aides, orderlies, and attendants

Carpenters
SOURCE: Bureau of Labor Statistics, U.S. Department of Labor, November 2011
Workers' Compensation and CTS. The issues surrounding workers' compensation make it difficult to accurately determine whether labor conditions cause carpal tunnel pain. However, CTS is a major contributor to workers' compensation cases.
Psychosocial Factors in the Workplace. Studies indicate that psychosocial factors in the workplace, such as intense deadlines, a poor social work environment, and low levels of job satisfaction are major contributors to carpal tunnel pain.
At Home and Play. People who intensively cook, knit, sew, do needlepoint, play computer games, do carpentry, or use power tools are at increased risk for CTS. Long-distance cycling may worsen symptoms of carpal tunnel syndrome.